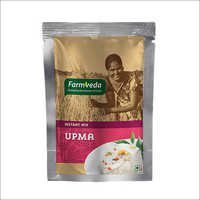 Instant Mix Upma
Product Description
About
FarmVeda Upma Mix brings to you this most popular south indian breakfast item with all its true authentic goodness. Tasty and flavoursome upma ready in just minutes. Serve this with FarmVeda Chutney Podi or FarmVeda Groundnut Chutney Podi. The farmers who own FarmVeda ensure that the best quality food reaches your table.
Ingredients
Sooji, vegetable oil, cashews, lemon powder, green chillies, turmeric, curry leaves, ginger, mustard, urad dal, chana dal, salt & sugar
How to use
Bring 2 and 1/4 measure of water to boil. Add 2 to 3 teaspoons of ghee. Slowly stir in 1 measure if upma mix eliminating lumps. Keep it in medium flame for about 1/2 minute. Turn off flame. Cover and set aside for a minute. Serve hot with a dob of ghee.